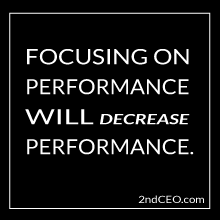 If you want to save a ton of money, time and grief at your company, it's as easy as this: don't try to implement performance improvement.
As a performance improvement consultant, why do I say this? Because practically every performance improvement mechanism out there (Six Sigma, PMO, ITIL, Sarbanes Oxley, Malcolm Baldridge, 4DX, etc.) assumes that you have supportive layers of workforce empowerment in place that you probably don't have. And even if you do, you will likely ruin those layers of support if you begin focusing on results at the expense of your people.
If you understand this, you'll be ahead of 95% of other leaders.