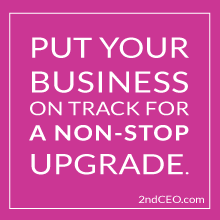 As a smart business owner, you show your clients the pretty face of your business. They never know that you are flying by the seat of your pants, your documentation is disorganized, some of your operational compliance is being neglected, and your technology is out of date.
But who can blame you? You haven't had enough time to do everything that is urgent, let alone enough time to start improving things.
Depending on how much help you have, you can reach the point where you are too busy running to get your feet under you. You are too busy to get unbusy!

This year, what if you tried something different? What if you put all the critical systems in place that would give you the foundation to run–or even fly? And what if you didn't need more time to do it, because you could bring in an expert to completely upgrade and overhaul your business engine for you?
That's the idea behind 2ndCEO's brand new service: Non-Stop Business Upgrade. For a predictable monthly fee, I join your team and project manage the gradual upgrade of everything in your business–one system and project at a time, in the order that helps your business the most.
Partner with me to take your business to a new level of performance:
Get a Non-Stop Business Upgrade